Every dog parent, who has been shopping for a perfect sturdy rope dog leash knows the struggle!
They very well know that mountain climbing ropes have expensive price tags! Irrespective of their price, a durable rope leash is what a dog owner eyes for.
Key Takeaways
This article provides a guide on how to make a dog leash from a climbing rope.
First, gather all of the supplies needed including a climbing rope, carabiner, scissors, and measuring tape.
Next, follow the three easy steps outlined in the article to build your own leash.
These steps include tying a figure 8 knot in the climbing rope, making a loop handle, and hooking the leash to your dog's collar.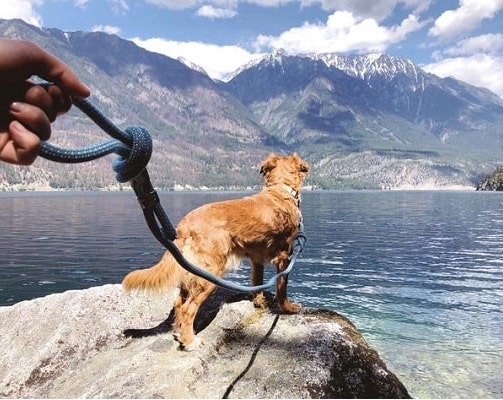 So, we have come up with a DIY article, that allows you to make a rope dog leash from a mountain climbing rope, at the comfort of your home.
"A penny saved is a penny earned."

Benjamin Franklin.
This article we will guide you through the basics of building your own rope dog leash with easy-to-follow steps and images. It will let you share your hand made love with your pooches, as you see them secured in a sturdy leash.
So, dear dog parents, just spend 15 minutes, and it will give you something stronger and more memorable than anything you could ever buy!
Difficulty Level: Easy
Why a Mountain Climbing Rope?
Buying the right kind of material is important for making a sturdy dog leash. In the market, we get a variety of materials like nylon cord, cotton fabric, or leather.
While these different type of materials have their advantages and disadvantages, we decided to go for a mountain climbing rope.
Mountain climbing ropes are known to be high in tensile strength and can bear heavy loads.
They are popular for their sturdiness and way longer shelf life.
Mountain climbing ropes have a thicker diameter as compared to any other leash material.
This makes them chew-proof for dogs who are chewers or those who like to nibble.
Gather All Supplies
Before you begin to put all your love and efforts to make your first DIY, rope dog leash, gather all your supplies.
It will get your work done easily if you have all your supplies near you.
Tip: It is better to buy a climbing rope +1ft extra in length than the leash length.
Materials
Climbing Rope: A good quality climbing rope is the first base to start with. We recommend using a braided rope that is easy-to-use and lasts longer than natural fibre ropes.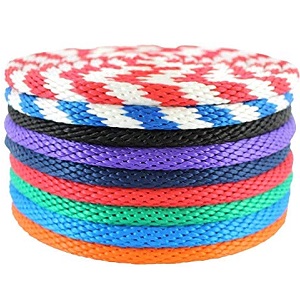 Climbing Rope Material: We recommend buying a braided climbing rope made of propylene material. Polypropylene material is buoyant in water and can float. So it will also make your dog's leash water-resistant and easy to use in water or beach.
2. Heavy-Duty Metal Carabiner: Carabiners are lightweight, durable, sturdy and are designed for use in both rock and mountain climbing.
These perform well as part of a customized dog leash if used. Like other clips, hooks, or connectors, they do not swivel, but they are superior in strength and safety.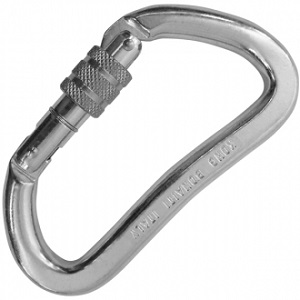 Tools
A Sharp Scissor: A sharp scissor with good blade sharpness is essential to cut the rope leash as per the measured lengths. As not using a sturdy scissor will cut the climbing rope into more small segments. And more rope segments will lead to more fraying ends.
2. A lighter or a knife.
3. Measuring Tape.
DIY: 3 Easy Steps to Build Your Own Dog Leash
We have made your DIY project easy and hassle-free by guiding you through 3 easy, simple steps. We suggest that you follow each of these steps in its sequence, to make a perfect rope dog leash.
Step One: The 8 Knot carabiner's loop
The first step in making your own rope dog leash is to measure the length of the climbing rope.
We suggest keeping the length of the climbing rope 6 ft.
Use a sharp utility knife or a sharp scissors after measuring the climbing rope with measuring tape.
Melt the cut ends of the rope with a lighter so they don't fray further.
Then the next step would be to tie a figure 8 knot in the climbing rope. We have given a detailed guide with a figure in our article below.
We have used an 8-knot number, which is a very secure knot and even used in rock climbing.
The image below shows how to make a 8-figure knot in your climbing rope.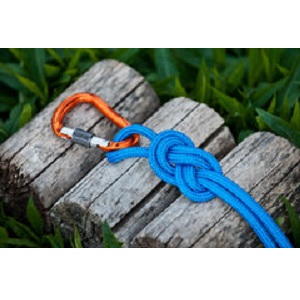 For that first step, open the screw gate carabiner or a locking metal carabiner.
Place the climbing rope inside the carabiner, measuring equal lengths on both sides, and lock the carabiner.
Secure the climbing rope by making an 8-knot tie, in the carabiner. This is the end that will be hooked to the collar or harness of your dog.
So make sure that the knot should be tied very tight.
Tip: A regular overhand loop knot will do just fine if you are not a hiker or knot-smith and cant tie an 8-knot design. But in that case, make sure to tie two overhand loop knots.
Step Two: Make your Loop Handle
Build a loop wide enough to fit your hand into it and secure it with an overhand knot or a figure 8. This will make your handle shape.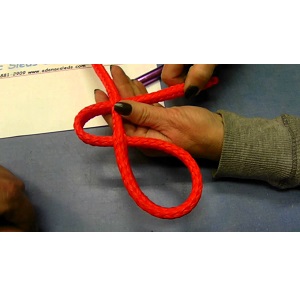 For this reason, we have chosen to use an overhand knot. Trim and burn the free end as before, to avoid fraying.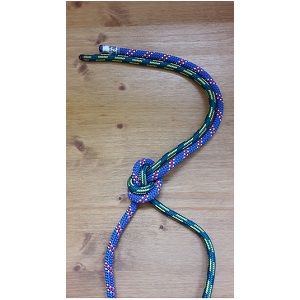 Step Three: Hook your handmade rope leash to your dog's collar
After you have secured the rope leash ends with hand handles. This how your DIY dog leash made from climbing rope will appear. This is just a reference image giving a general idea of how it would look.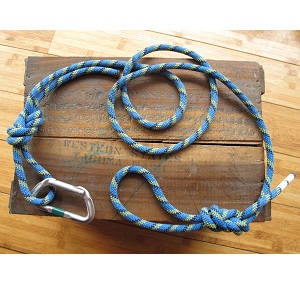 Then the final step is to hook your hand-customized rope dog leash, to your dog's collar or harness by the carabiner.
How to Tie a Figure 8 Knot
The image below shows a few simple steps, you can follow to make your 8-knot tie. It is best to make a figure 8 knot at the carabiner's loop.
This will ensure that the rope dog leash is completely secure at your dog's collar. And it will keep your dog securely leashed with its unbreakable strength.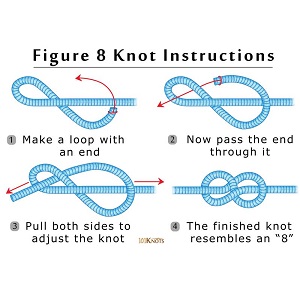 How to Make Overhand Knot for Dog Rope Leash Handle?
The image below shows the key three steps to tie an overhand knot for a dog rope leash.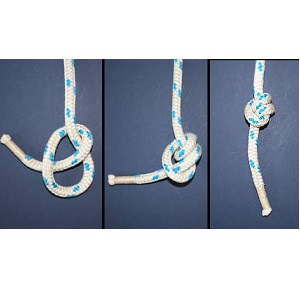 First measure the size of the loop handle that you want to keep for your rope dog leash. The space for the handle should not be too small or too large.
Then, at the measured point, loop one end of the rope and carefully pass the other end of the same rope through the loop.
And with force, close the knot with both ends.
Why Did We Choose Propylene Climbing rope?
Polypropylene climbing rope multifilament is affordable without losing efficiency than nylon and polyester. The rope material is gentle to your skin and as well as to your dog's coat.
An added advantage is that it is produced without toxic chemicals or dyes, making it an excellent choice for a dog leash!
Width/Diameter
We suggest using the climbing rope to be a certain-fixed diameter and width to make your own dog leash.
The reason to choose a particular diameter and width is that it will allow you to decide what diameter to pick for your dog or puppy.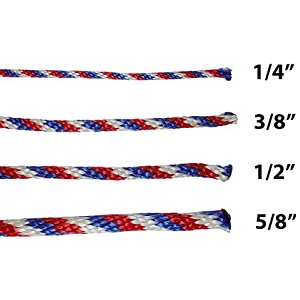 Small dogs and puppies: For small-sized dogs or puppies, it is better to opt, the climbing rope with a diameter of 1/4″ and 3/8″.
A dog leash made with this rope diameter won't be too heavy for your small-sized fidos.
Heavy-Medium Large Dogs: For heavy medium to large-sized dogs, it is better to build a dog leash that is sturdy and powerful.
So, a rope dog leash with a thicker diameter like 1/2″ and 5/8″ is a must.
The dog leash build with this thickness work well with pullers too.
How Much Would a Handmade Climbing Rope Dog Leash Cost?
We have curated this article with the idea of saving you, your hard-earned penny.
So, we have calculated roughly how much will it cost, make a dog leash out of climbing rope.
The propylene mountain climbing rope used by us in this review article did cost us, $15 for 10ft.
The metal carabiner used did cost less than $5 for a pack of two sturdy.
Really, It's just that! For under $20, you've made a completely operational, outdoor, trendy, and very sturdy rope dog leash from a mountain climbing rope.
Other Variant: A Braided Rope Dog Leash
If you loved making a simple rope dog leash, by using a single climbing rope.
We would like to suggest a more challenging and interesting DIY project of a braided rope dog leash.
The braided dog leash uses two climbing ropes that are first braided together to make them more stylish, stronger, and sturdy.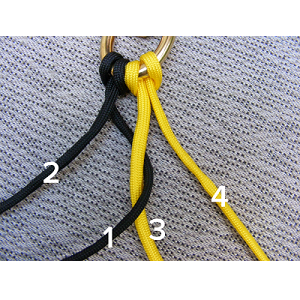 This DIY project with double climbing rope is more challenging. We recommend trying your hand at this only when you are not a novice.
Wrapping it Up
We hope that our post will guide you through the steps of making your own rope dog leash.
So, let's just not buy this time, instead make them handmade rope dog leash.
It's now a perfect time to walk your paw buddy and flaunt a new handmade rope dog leash.
References:
Dog leash-related injuries treated at emergency departments. (n.d.). Retrieved December 1, 2022, from https://doi.org/10.1016/j.ajem.2020.05.082
Gibeault, S. M. (2021, April 21). Why Does My Puppy Refuse to Go on Walks? American Kennel Club. https://www.akc.org/expert-advice/training/puppy-refuse-go-on-walks/
Shih, H. (2021). Dog Pulling on the Leash: Effects of Restraint by a Neck Collar vs. a Chest Harness. Frontiers. https://doi.org/10.3389/fvets.2021.735680
(2022d, September 6). Tips for Leash Training Your Dog. PetMD. https://www.petmd.com/dog/training/evr_dg_tips-for-how-to-leash-train-a-dog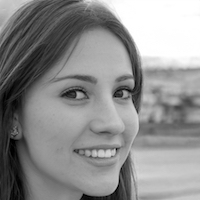 When it comes to dogs, Julia ignores nothing. Being an animal behaviorist, dog trainer and a dog parent she knows exactly how even a tiny change in a dog's surroundings and diet can leave dogs disturbed for a longer duration. Hence, she always makes sure to review for us only the best products for dogs out there.