Ever wondered about the thought of Duck meal in dog food? Is duck meal in dog food worth the hype or just an alternative to chicken meal?
The local pet store or be it the aisles of megastores is flooded with a variety of dog food!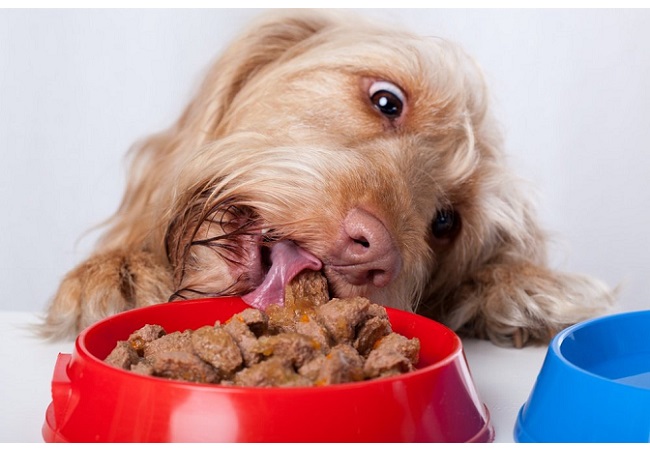 These dog food varieties are not just limited to conventional meat meals as we did find some 20 years back!
The current pet food industry is full of meals with novel meat options like duck meal, lamb meal, and salmon meal.
One such pick for our article is duck meal!
Ever since I saw a duck meal in dog food, I was curious to know the "truth about duck meal in dog food". This led me to compose an entire post on it.
In this post, I have tried to cover a little fact to the most important information on duck meals.
So hope this article, fits the need of dog parents like me, who are always on the hunt for novel dog food to try!
Insight Into the Truth About Duck Meal You Need to Know
Below we have enlisted easy-to-understand facts about Duck meal. These are questions with simple answers that will help you understand duck meal better!
What Is the Deal With the Duck Meal?
Duck meal is composed of the clean, dried, ground tissue of the duck by the process of rendering.
They are derived from the parts of the whole body of the duck exclusive of feathers, heads, feet, and entrails.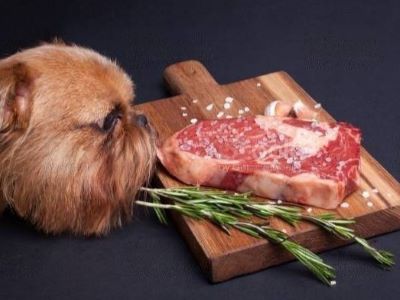 Some of the USA-based companies like Merrick, even mention deboned duck as the first ingredient.
Duck meals with debone ducks don't use duck bones in them. And thus have the minimum Ash content.
Is Duck Meal a Novel Source of protein?
Yes, Duck Meal is a novel source of protein. Duck meal is known to be a complete source of protein.
Though not yet as popular as the other poultry-based chicken meal. We still support the use of unconventional and easy-to-digest duck meal.
It is especially suited to the nutritional requirements of dogs that have allergies to chicken.
It is also a novel source of protein for dogs that suffer from food intolerances from chicken, beef, and turkey.
Thus, Duck meal is one of the more exotic proteins identified in dog food labels that you may find.
Why Choosing Duck Meal in Dog Food is a Better Option?
Duck meal is the best alternative for a dog parent who stays worried about their dog's allergy problem.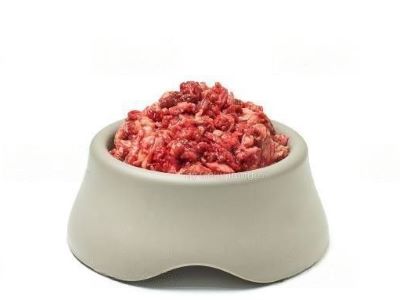 As the most common dog allergies to food are noted from chicken and grains. In addition to that below are some benefits of a Duck meal.
It's a Complete Protein Source
Duck is an excellent total protein source. To build and sustain healthy muscle tissue, dogs need amino acids. Amino acids are building blocks of protein.
Proteins are also used to power their immune systems. Dogs can develop allergies to protein sources, such as beef or chicken. Duck meal is their best alternative.
Fortunately, the duck meal in dog food is an outstanding choice of proteins. These vital mechanisms and processes will begin to fail without a sufficient amount of protein in your dog's diet.
Leading to adverse health effects such as loss of muscle mass, trouble breathing, nausea, moodiness, and much more.
It's Full of Essential Fatty Acids
Interestingly duck meal in dog food contains a good amount of essential fatty acids when compared to other poultry-based dog foods.
Omega-3 fatty acids, in duck meal, helps provide your dog with healthy skin and coat. These fatty acids are also essential for the brain and heart health of your dog.
Health Benefits of Duck Meal for Your Dog
Here are some major health benefits offered by duck meal in your dog's food. The following information is suggestive based on clinical studies and research. We recommend that you consult your Vet for the same!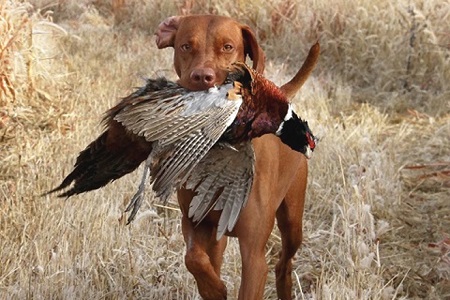 Lowers risk for developing cancer
The duck meal in dog food will provide a healthy dose of Vitamin B. Vitamin B complex is potentially known to reduce the risk of developing cancer.
Though more lab studies need to be done to confirm the fact.
Vitamin B6 and vitamin B3 are the major vitamins found in duck meal in your dog food. Niacin (Vitamin B3) helps regulate the body's sugar levels.
Vit B6 also converts protein, fat, and carbohydrates into energy that can be used by the body. Whereas Pyridoxine (Vitamin B6) supports energy functions and heart health.
Healthy Immune System
Duck meal in your dog food contains Zinc and selenium. These minerals act as antioxidants. Antioxidants help boost the immune system.
Growth and Development
Selenium also helps maintain the normal thyroid function of your dog. The thyroid organ produces thyroid hormones essential for body growth and development for dogs.
Better Blood Production
Duck meal also contains Iron in good amount. Iron is responsible for the process of blood production.
Understanding the Difference Between Duck Meal vs Other Types of Duck Meal Options
The market shelves are full of different types of dog food for your dogs. Considering the variety, and understanding the difference in the type of duck meal is important.
Duck Meal in Your Dog Food
Refers to dog food that has a duck meal that is moisture free and made by rendering live or slaughter whole duck without bones, feathers, beaks, and other by-products.
Duck by-product Meal
Duck by-product based meal in your dog food means different from duck meal.
It means that this duck meal is prepared by using duck and its by-products.
These by-products are bones, feathers, beaks, feet, and tails! They are mostly the by-products left after bird slaughter or body remains.
Combination Meat Meal
Combination Meat meal in your dog food will also contain duck or duck by-product. But in combination with other meat meals.
For example, this dog food will have a duck meal in combination with chicken meal, bison meal, beef meal, or even a grain combination.
So these types of combination meat meals will have lesser and undetermined protein sources from the duck! And they are not a true or quality source of duck meal.
Things to Look for in a Good Duck Meal
There is no unique or particular way to decide which meat meal source is best suited for your pet dog.
A most simple and convenient way is to compare the features and ingredients of the different foods, available in the market.
But below are some of the general points to look at.
Look for countries that have higher Food safety standards
Food manufactured in the USA, Canada, Western Europe, New Zealand, or Australia can be bought.
While this does not guarantee the best of food quality available in the market.
Though these countries have higher safety standards. They even mention the source of their meat meal and mention all the ingredients on the label.
High Quality food should have whole protein in the first five ingredients
A premium quality meat meal while having whole protein as its first ingredient. "Duck meal," for instance, is a perfectly appropriate ingredient, whereas both "poultry meal" and "animal meal" are too unclear terms.
So look for duck meal in the first five ingredients of the duck meal in dog food.
They also need to have other beneficial ingredients
A good duck meal will also have other beneficial Ingredients. They also have ingredients high in omega fatty acids and antioxidants. are usually used in the best dog foods.
Avoid artificial colors, flavors
These types of ingredients are not only unnecessary but they can cause allergies. The duck meal that has artificial color and flavors in dog meal will lead to other problems in their digestion too.
Suggested Duck Meal Dog Food Recipes
We have suggested duck meal recipes for your dog's food. After knowing the health benefits of duck meal in dog food, you would surely want to try them.
These recipes were selected as they have duck meal has a single animal source of protein.
They are best suited for dogs with allergies to chicken/beef/lamb/salon meal in dog food.
Blue Buffalo Basics Limited Ingredient Grain-Free Duck & Potato Recipe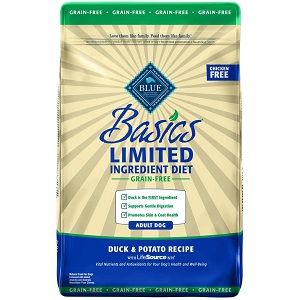 Merrick Grain-Free Real Duck + Sweet Potato Recipe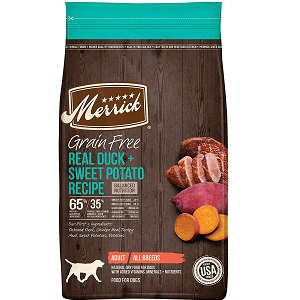 Related FAQs
Is duck meal good for dogs?
Yes, a duck meal is good for dogs that have higher allergy issues with chicken/beef/lamb-based meal. Duck meal has a higher amount of amino acid.
Thus, it provides a novel source of protein. It is also rich in iron and amino acids that promote healthy growth and development in dogs.
Can a duck meal make my dog sick?
As such duck meals are the best alternative for dogs with allergies. They are even the best option for dogs that have allergies to grain and other meat-based meals such as chicken/beef/ turkey. It takes a while for adjusting to the duck meal. But if more serious problems persist, it is better to consult a Vet.
Wrapping up the Truth about Duck Meal
We now get to know, that a duck meal is a novel alternative to traditional meat-based meals.
It is yet not so popular among pet parents. But it still can be considered the best alternative for your dogs with allergies.
A duck meal is high in protein, B-Vitamins, Iron and Omega-3 to give it a try for your dog's food.
Resources: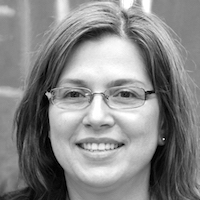 Julia is a Board Certified Veterinary Nutritionist, practicing veterinarian in a non-profit animal hospital and feline sanctuary located in Rochester, NY. She is also a full-time veterinary advisor at DogLikesBest. She focuses on writing healthcare-related topics including dog foods, treats, veterinary diets, food for specific healthcare features, etc. Moreover, any article on DogNeedsBest that has to concern feline health in any way, goes under her scrutiny before being published.